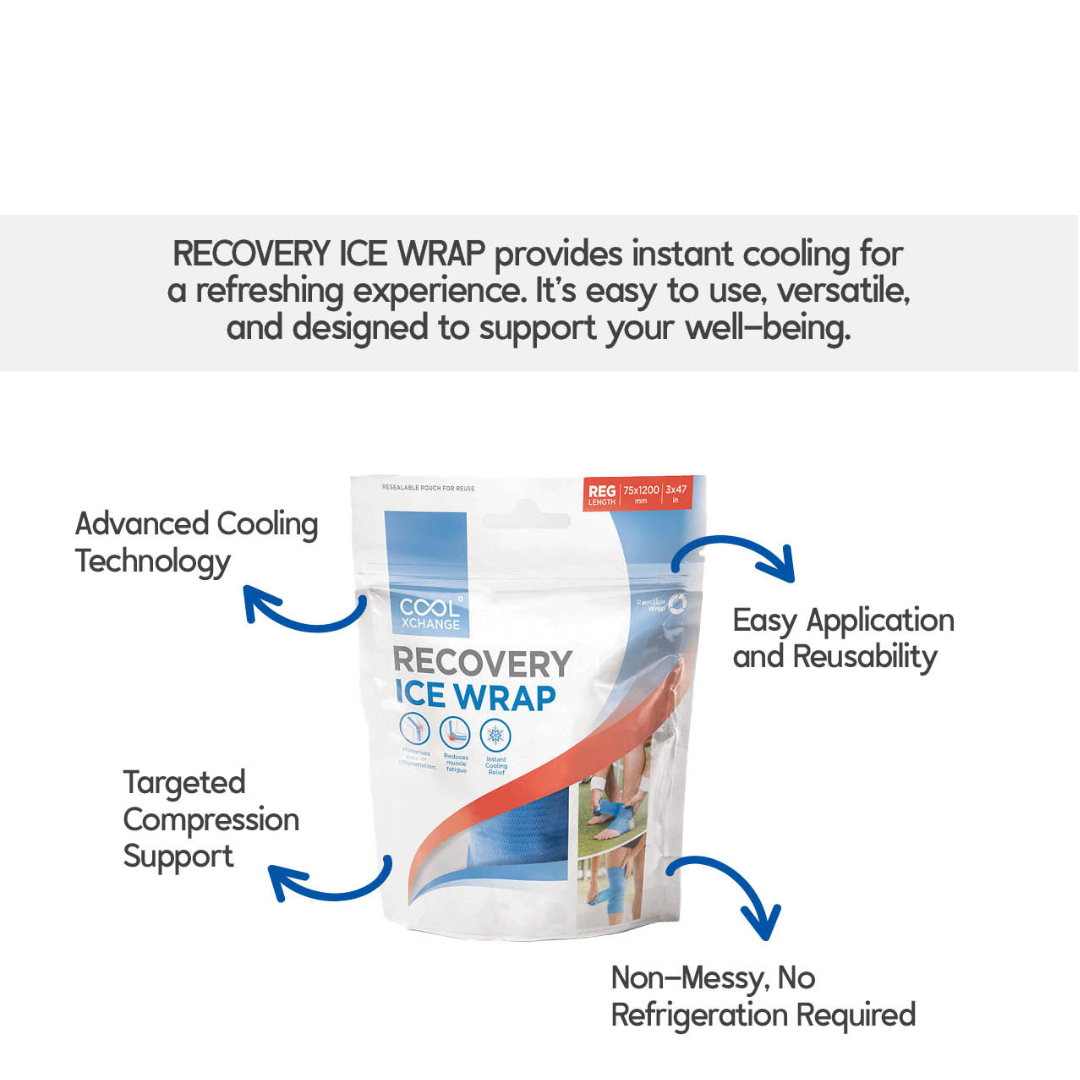 UNWRAP THE GIFT OF RELIEF! 
Order $40 or more, and we'll add a FREE RECOVERY ICE WRAP to your cart, bringing you double the comfort and care!  
CoolxChange provides instant cooling for a refreshing experience. It's easy to use, versatile, and designed to support your well-being. 
HOW TO CLAIM YOUR FREE COOLXCHANGE:  
1.  Spend $40 or more online 
2. That's it! Your free ice recovery wrap will be added to your cart automatically 
Terms and Conditions: This promotion is valid for customers placing orders on Thermoskin.com during the month of December 2023. To be eligible for the free CoolxChange bandage, the order must have a minimum total value of $40 before taxes and shipping fees.
Thermoskin products incorporate the quality standard of world's best practice in materials, R&D, manufacturing and distribution and will remain the benchmark of the industry.
We will continue the evolution, as we focus on enhancements to the brand and maintain "quality thinking" processes at all times.
2016
Thermoskin Walk-On

 

range introduced 
Advanced Material Technology and superior comfort 
Assists with everyday management of medically diagnosed foot conditions 
---
2014
Thermoskin revives Mannequins programs with new Red Mannequins into pharmacy
---
2013
Thermoskin Sport range launched.
---
2012
Thermoskin launches new look logo and packaging
---
2010
Support & Braces Supplier – Australian Commonwealth Games Team 
---
2008
Thermal Support Supplier – Australian Olympic Team 
Thermoskin product being clinically tested at Griffith University 
---
2006
Medical Equipment Supplier 2006 Melbourne Commonwealth Games 
---
2005
Thermoskin becomes partner of the Physiotherapy Research Foundation (PRF) providing grants for research into sports injuries, arthritic pain and repetitive strain injuries 
---
2002
Thermoskin endorsed by the Australian Physiotherapy Association (APA ) as the only recommended thermal support 
---
1999
UPI move into purpose built Thermoskin manufacturing and administration headquarters in Melbourne, Australia 2000
CE marketing accreditation gained for Thermoskin 
Thermoskin accredited with AS/NZS ISO 9001:2000 – Quality System Certificate
---
1996
Thermoskin mannequin program introduced, lifting sales in certain retail stores by up to 200%
---
1993
Thermoskin expands to export market with U.S satellite office set up in Colombia, South Carolina and distributors in Japan and Canada
---
1992
Thermoskin begins its association with the Australian Olympic Team by providing product to the medical services division 
---
1991
United Pacific Industries (UPI) acquire the Thermoskin manufacturing, marketing and intellectual property rights from Johnson & Johnson Australia Pty Ltd 
---
1989
Thermoskin Medical International sell the Thermoskin business to Johnson & Johnson Australia Pty Ltd 
---
1987
Successful clinical trials conducted on the effectiveness of Thermoskin as a heat retention product 
---
1986
Thermoskin partners the Australian Institute of Sport (AIS) 
---
1985
Thermoskin Medical International launch the first heat retaining support in Australia – Thermoskin 
Thermoskin receives the National Pharmaceutical Distributors Association (NPDA) 'Dianna' award for the best new product launch in Australia in the Pharmacy OTC (over the counter) category.