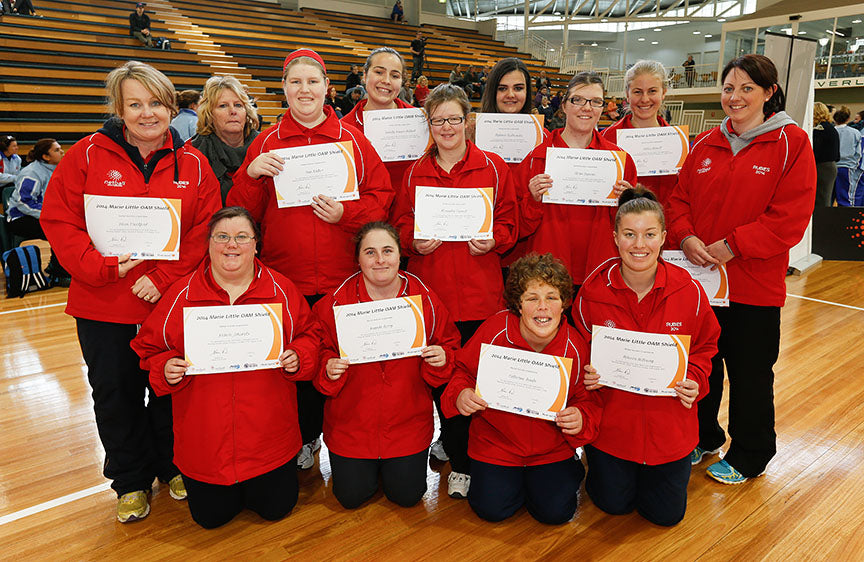 10 Australian community sports teams win a share of over $13,000 from Thermoskin
With an all time record number of entries, choosing just 10 recipients of the 2015 Thermoskin Community Sports Fund was a no mean feat for this year's judges. From horse-riding and pole-vaulting to AFL and surfing, the judges assessed a total of 321 entries from an amazing range of sports, as well as teams from every state and territory across Australia.
The Thermoskin Community Sports Fund supports grass-roots sporting teams, allowing them to apply for funding from a total pool of $10,000. However, to accommodate the financial requests of the 10 recipients, Thermoskin made a surprise last minute decision to increase the fund to $13,000.
Teams were judged on the value they bring to their community, why they need the funds, the quality of their application and the number of votes they received via the Thermoskin Facebook page. Voting for the teams ran from 1 April to 20 April; in this short time more than 17,000 votes were cast, a 379% growth on 2014.
Taking on the difficult judging task this year were:
Eloise Southby, Former Australian Diamonds Netball Player
Richard Colman, Paralympic and World Champion
Alex Kountouris, Head Physiotherapist for the Australian Cricket Team
Matt Symington, UPI (Thermoskin) CEO
Now into its third year, the Thermoskin Community Sport Fund has seen a 127% increase in team nominations since 2014, and an impressive 236% increase from its inaugural year.
Mr. Symington explained, "The fund is designed to help clubs and their members stay active through the sports they love. It is not about how popular a sport is or how big a team is, it's just about showing us your commitment to your sport and the value you bring to the community."
He added, along with the other judges, that he was excited and overwhelmed by the volume, quality and diversity of entries that they had received this year.
"We are extremely pleased to see the growth of this campaign, evident through the sheer number of entries and votes. We were all surprised and delighted by the increase. We aim to continue to help as many teams as possible in the future so that Australia may continue to grow as a sporting nation."
New South Wales, Victoria and Queensland were the most represented states. Entries came from both regional and metropolitan areas across Australia, as well as teams of every age group.
The 10 lucky recipients are:
ACT High Vaultage Pole Squad, Florey ACT
$1,000 for vaulting poles
The High Vaultage Pole Vault Squad is a junior Pole Vault squad with athletes from 10-19 years old from across Canberra and into Goulburn, NSW. It is an inclusive group and encourages anyone who is keen to learn Pole Vault to come along. The money will be used to purchase three new pole vaults which are essential, but expensive. 
Australian U24 Auroras Dragon Boat Team, national
$1,500 for racing uniforms
The U24 Auroras are a national mixed team of 30 dragon boaters. The team are dedicated amateur athletes who train like professionals. Their hope to build a legacy of fit, young Australians with the opportunity to fight the health challenges of this generation. The U24 Auroras received the highest number of Facebook votes.
Bendigo Divers, Epsom VIC
$1,500 for bathers and track suits
Bendigo Divers have talented divers from 8 to 15 years old and are currently the number 1 country club in VIC. The team aims to promote a good, clean sport and a responsible attitude, whilst highlighting in a rural area that anyone can achieve their goals in life.
Birchip-Watchem Netball Club, Whirily VIC
$1458.62 for equipment
A netball club from a small rural community, the Birchip-Watchem club has 110 members despite only having a town population of 800. The club provides community members with something to look forward to each week within a supportive environment and aims to highlight the importance of having a healthy body and mind. 
Bluebottles U23 Mixed Ultimate Team, Kensington NSW
$1,500 for playing uniforms
A team of 23 athletes, 3 coaches and 1 manager make up this mixed Ultimate Frisbee team who will be representing Australia at the World U23 championships in London. The Bluebottles aim to be advocates for this lesser known sport by recruiting new players and increasing its visibility in Australia.
East Bankstown Football Club, Bankstown Centro NSW 
$1,500 for uniforms and equipment
Celebrating 60 years and over 250 players, the East Bankstown Football Club want to cause a stir in the community and break down the barriers that many young girls face when participating in sport. They aim to continue to coach and mentor players so that they become strong role models for other girls.
Pyramid Waragnu Power, Gordonvale QLD
$1,500 for playing jerseys
An all female AFL team from Queensland who take part in the regular male competition, the Waragnu team is a whole new concept. The team aims to encourage local, mainly indigenous girls, to take up sport. They believe that sport can help provide indigenous girls with their own identity and strong connections.
Rubies Netball Team, Hilton Plaza SA
$675 for court hire, shorts and socks
The Rubies Netball Team is SA's representative netball team for players with an intellectual disability. The team aims to show that there is a pathway for athletes with a disability, they also give back to the community my running clinical and giving talks at schools throughout Australia.
Victorian Softball Umpires, Fitzroy VIC: 
$1,368 for umpire equipment
Victorian Softball Umpires consist of more than 150 umpires across VIC and have been in existence in the 1960's. They service local competitions, state championships and many other tournaments. Victorian Softball Umpires provide a valued service to the sport of softball.
WA Lord's Taverners State Indoor Cricket Team, Hawthorn WA
$1,000 for uniforms and equipment
A team of intellectually disabled indoor cricketers, the WA LTS team represent their state. They have been up and running since 1995 and through this team players have the opportunity to create friendships, join other sports and go on outings, all whilst staying fit and gaining confidence.