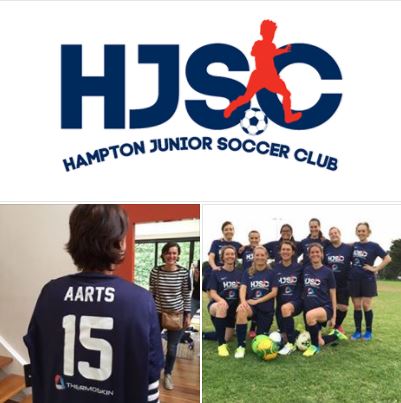 Hampton Junior Soccer Club
Thermoskin announce 2 year sponsorship of Hampton Junior Soccer Club Women's team.
Thermoskin are proud to announce a new 2 year sponsorship of the Hampton Junior Soccer Club Women's team. Located at Simpson Reserve in Hampton North, this inclusive and welcoming club provides young girls and boys and of recently women, the opportunity to learn and play the game of soccer while developing skills, tactics, and social experiences which they can take with them on their journey through life.
Women's soccer is currently experiencing a steady increase in popularitry in Melbourne, the interest for social soccer among mums in the 35-50 years old age bracket has been a core reason for this. In Bayside in particular, in less than 6 months it has grown from being two teams to ten and from one club offering of social soccer to four clubs. Capitalising on this wave of popularity the sport is enjoying today, the Hampton Junior Soccer Club offers a genuine opportunity for people within the Bayside area and provides them with the facility to explore the game of soccer. 
Thermoskin believes in providing individuals of all ages and abilities the chance to experience sports, whilst living a healthy lifestyle to achieve their best and are proud to be partnering with the Hampton Junior Soccer Club Women's team to help grow the game of soccer and play a part in helping increasing opportunities for involvement.  
The Hampton Junior Soccer Club is a community based club, run purely by the efforts of volunteering parents and has juniors and women showing up every week to join. To find out more about joining or becoming involved in this great club, or if you know someone who would be interested, please visit the website at: www.hamptonsoccer.com.au 
Hampton Junior Soccer Club players wearing their new jerseys.