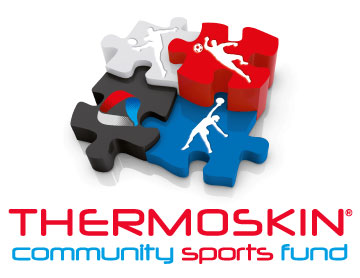 Thermoskin Community Sports Fund 2016 - Winners Announced!
16 Australian Teams & Individuals Win From a Share of Over $12,000.
Today, the winners of this year's Thermoskin Community Sports Fund have been announced, with a last minute surprise decision by Thermoskin to increase the fund pool from $10,000 to $12,000, to reward 16 deserving teams and individuals, judged by an all-star panel of Australian sporting greats including ex-Socceroo Brett Emerton, Retired Australian Netballer Sharelle McMahon and Olympic Gold Medalist and World Record Holder in Swimming, Melanie Wright.
In it's fourth successful year, the Thermoskin Community Sports Fund continues to support grass-roots sport in Australia and encourages participants of all ages and skill levels to stay active and embrace the social benefits of being a part of a community-sporting group. With over 300 applicants in the Under 50s, Over 50s and Individual categories, and over 16,200 votes from the public, there's no sign of the fund slowing down.
"We're extremely pleased to see the glowing success of the Thermoskin Community Sports Fund campaign year after year, and due to the high caliber of applicants this year, we decided to up the ante and increase the funding amount from $10,000 to $12,000 to allow for more winners. We are dedicated to continuing to help as many teams and individuals as possible around the country – ultimately supporting grass-roots sports in Australia," said Matthew Symington, 2016 judge and CEO of United Pacific Industries, the parent company to Thermoskin.
The judges determined the winning teams and individuals by following strict criteria, which included the quality of the application, why the funds are needed by the team or individual, the value the sport brings to the community or person, as well as consideration of the votes received by members of the public.
"The judging process wasn't easy, as all the applicants were worthy winners and all had inspiring stories that truly reflected what the Thermoskin Community Sports Fund is all about. From dragon boat racing to gymnastics, to ice skaters and hockey clubs, it's incredible to see the diverse range of sports Australians participate in and the important role these activities play within different communities across the country," said judge and ex-Socceroo Brett Emerton.
The winners of the 2016 Thermoskin Community Sports Fund include (in no particular order):
Under 50s Category
- South Australian Synchronised Ice Skating Club – Kangarilla, SA
- Sunshine Beach Girls 15s Touch Football – Castaways Beach, QLD
- Crusoe Crusaders – Bendigo, VIC
- Super Hero's – Doyalson Wyee Soccer Club – Lake Munmorah, NSW
- Emmaville Deepwater Swimming Club – Deepwater, NSW
- Kalgoorlie PCYC 2016 Gymnastics Team – Kalgoorlie, WA
- Three Springs Hockey Club – Three Springs, WA
- Wanderers Baseball Club – Mildura, VIC
Over 50s Category
- Pinnacle Dragons Abreast – Orange, NSW
- The Lake Districts Dragon Boat Association – Forest Lake, QLD
- Coutts Crossing Croquet – Coutts Crossing, NSW
Individuals Category
- Keelan Jerara Law – Black Hill, TAS
- Lauren Evans – Varsity Lakes, QLD
- Grace Giles – Thornbury, VIC
- Emily Kro – Bacchus Marsh, VIC
- Marty 'Nastee' Jackson – Ocean Grove, VIC
All winners have plans to improve their sporting communities with the much needed funding, which they will allocate towards new equipment, club uniforms, upgrading training facilities and more.