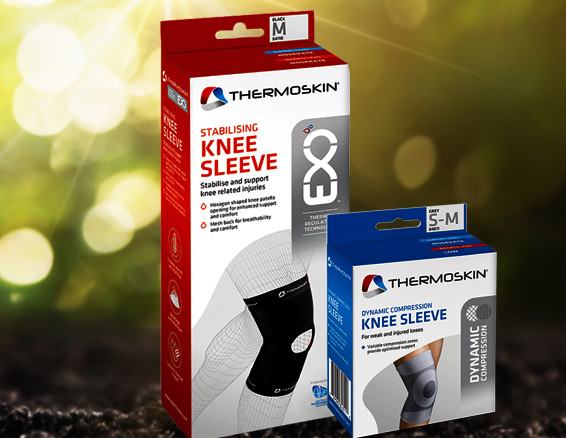 Thermoskin Environmental Sustainability Policy
As a leading manufacturer of braces and supports, Thermoskin places great importance on our responsibilities toward preserving precious water resources and reducing land fill wastage. Observing environmentally conscious practices in all aspects of our business, minimising our impact on the environment by applying the principles of reduce, reuse and recycle throughout all of our operations.

Moving Towards Sustainability 
Reducing Water with Dope Dyed Yarn –

 

Dope dyed yarn is one of the most efficient dyeing processes that can be used to manufacture our supports and braces. This process reduces our manufacturing water usage by up to 90% whilst contributing to a reduction in energy consumption and water pollution.
Made with Limestone Neoprene -

 

Thermoskin utilises earth mined limestone to replace petrochemicals within the manufacturing process of our supports and braces. Replacing these petrochemicals in our material production has resulted in more sustainable and environmental processes.
Water Based Glue –

 

Our solvent based adhesive glue used in the lamination process of all of our products has been replaced with a water-based glue eliminating volatile organic compounds or VOCs.
ECO Carbon Black –

 

provides a 'green' alternative for the rubber foam used thought-out all of our products, utilising materials from recycled scrap rubber tires. This has resulted in a reduction in energy consumption and CO2 emissions when manufactured.
Looking Towards the Future
By 2023 Thermoskin plans to be using planet-friendly materials throughout our all of our packaging.
2023 Goal: Forest Stewardship Council (FSC) Certification
With a push towards creating renewable and responsibly sourced packaging, Thermoskin plans to have all of our cartons be 100% FSC labelled by 2023.  FSC is the world's most trusted sustainable forest management solution. FSC labelling tells customers that the materials used originates from sustainable and legal sources, ensuring they are recyclable. 
Most our cartons already utilises FSC certified card 50/50, however we do not print this on our packaging as our current printer doesn't have the necessary certifications. The Thermoskin team is currently taking steps to further meet these requirements and achieve our 2023 FSC goal.
2023 Goal: Recyclable Packaging with ARL Labelling
By 2023 all our packaging will be recyclable and be utilising the new ARL system, 2 years before it is required by the federal government. All of our packaging will display the Australasian Recycling Label (ARL) an evidence-based system for Australia and New Zealand, that provides users with easy-to-understand recycling information. Helping to remove consumer confusion and reduce landfill waste.
Find out more about ARL Labelling here.