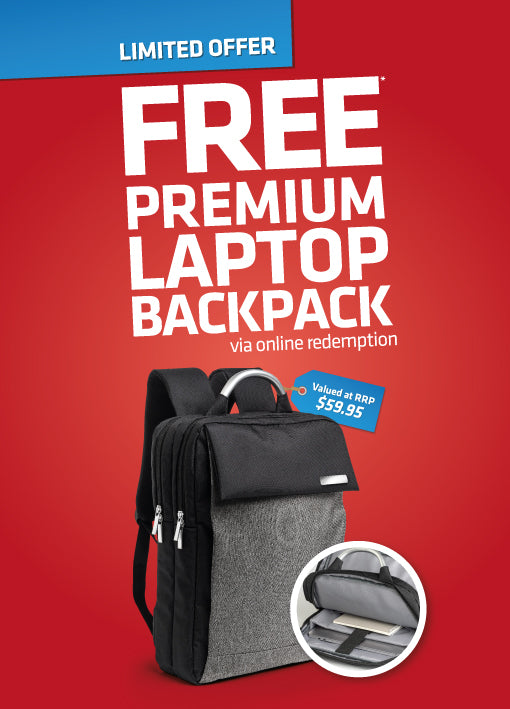 Receive a FREE Premium Thermoskin Laptop Backpack valued at RRP $59.95*
THIS COMPETITION HAS NOW ENDED. Between 1st July and 30th September 2019, Thermoskin® is offering the first 800 customers who purchase $39.95 or more worth of any Thermoskin® product in-store, the opportunity to claim a Premium Thermoskin Laptop Backpack.
THIS COMPETITION HAS NOW ENDED.
Perfectly sized to hold all your travel essentials, the Thermoskin Premium Laptop Backpack comes in a modern design, offering a spacious interior compartment to keep your belongings safe and organised.
The trendy unisex bag is ideal for use as an overnight bag, with enough room to carry all you need for a getaway or as a hand carryon for plane travel, making this bag the ideal companion.
Additional premium features to ensure you are always one step ahead of the game include large, high quality zips and metal pulls for easy access when on the move, durable lightweight material and an optional adjustable shoulder strap for added convenience.
HOW TO CLAIM:
Claimants must fully complete the online claim form below and upload a photograph or scanned proof of receipt.
Online claim forms must be received prior to midnight (Eastern Standard Time) on 30th September 2019. Not valid for online purchases.
HOW TO ENTER:
Thermoskin products have been clinically developed for the simple and effective treatment of injury to muscles, tendons and ligaments. They combine compression, support and naturally generated body heat for therapy and pain relief of sports injuries, arthritis and RSI. Thermoskin products are available at all leading pharmacies. The first 800 approved online redemption entries, via the Thermoskin website will receive a FREE* Premium Thermoskin Laptop Backpack valued at $59.95. *Terms and conditions apply. Promotion ends COB 30/9/2019.
Not valid for online purchases.
TERMS AND CONDITIONS
1. Information on how to enter and information in relation to this offer form part of these Terms and Conditions.
Entry into this promotion is deemed to be acceptance of these Terms and Conditions. Offer not valid in conjunction with any other offer.
2. Offer is only available to Australian residents 18 years and older.
3. Premium Laptop Backpack offer is valid for purchase of products branded Thermoskin.
4. Subject to eligibility of claim: Customers must purchase $39.95 worth of Thermoskin products from any Australian pharmacy in a single transaction.
Purchase dates are from 1/7/19 – 30/9/19. To redeem the prize and claim Premium Laptop Backpack visit www.thermoskin.com/backpack and completing the redemption entry details, inclusive of original proof of purchase with date and value clearly visible.
5. Claimants must retain the original purchase receipt.
6. The first 800 eligible entries will receive a Premium Laptop Backpack, valued at RRP $59.95. This limited offer is while stocks last.
7. Entry is limited to one per valid receipt.
8. Free Laptop Backpack will be sent out via Startrack to claimants postal address within three weeks of receiving and confirming completed and eligible entries.
9. Offer is valid on purchases made at any Australian Pharmacy in person between 1st July 2019 and 30th September 2019 (promotional period) or until the total prize pool of 800 Backpacks has been taken up.
Whichever occurs first. Promotion applies to instore purchases only. Does not apply to online purchases.
10. The purchase date is determined by the date of the store tax invoice (receipt) submitted by the customer with the claim.
11. $39.95 value must be legible on the store receipt and be only for Thermoskin products and still add up to $39.95 after any discounts are applied.
12. All claims must be received prior to midnight (Eastern Standard Time) on 30th September 2019.
13. All claims are subject to a verification check by the Promoter. The Promoter reserves the right to verify the validity of all claims. The Promoter's decision is final and no correspondence will be entered into.
14. The Promoter takes no responsibility for late, lost or incomplete applications.
15. The Promoter takes no responsibility for late, lost or incomplete deliveries.
16. The Promoter takes no responsibility for incorrect information entered in to the promotion window on the website.
17. The promoter reserves the right to refuse entries which are deemed as fraudulent or non genuine, through use of reprinted receipts.
18. The Promoter collects entrants' personal information in order to conduct the promotion as well as email address for future Thermoskin marketing communications. If the information requested is not provided, the entrant may not participate in the promotion. A request to access, update or correct any information should be directed to
the Promoter at its address set out below.
19. Promoter's privacy policy can be viewed at www.upi.com.au. Full terms and conditions can also be viewed at www.thermoskin.com/backpack The Promoter is United Pacific Industries Pty Ltd, ABN 65 050 278 361, 10 Eastspur Court, Kilsyth VIC 3137