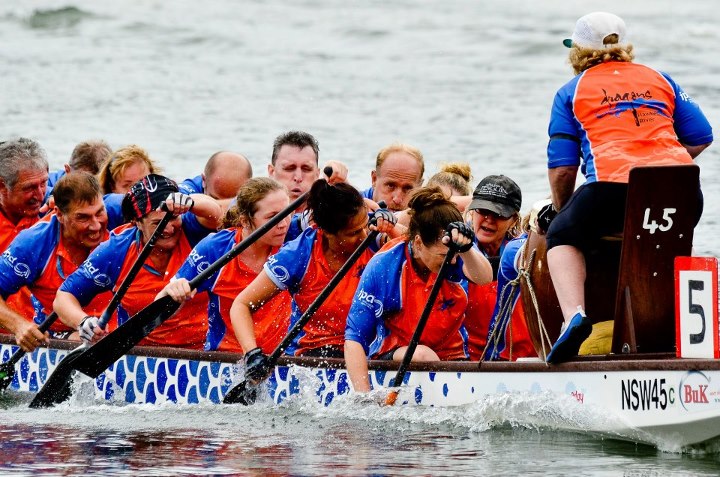 2014 Sports Fund Recipients: from dragon boat racing in Wagga Wagga to soccer in Paraburdoo
Thermoskin have chosen 14 lucky recipients from around Australia to receive funding for their community sports team. A dragon boat racing team in Wagga Wagga and a little athletics club in Kyneton are just two of the 14 lucky recipients out of 142 entries from around Australia in the 2014 Thermoskin Community Sports Fund.
The Thermoskin Community Sports Fund supports grass-roots sporting teams across Australia. Teams could apply for funding from a total pool of $10,000.
In its second year, Thermoskin's Community Sport Fund attracted a 50% growth in team nominations - a big increase on 96 entries in last year's inaugural year.
The judges were:
Former world champion hurdler and recent Sochi Winter Olympic bobsledder Jana Pittman
Paralympic gold medallist Richard Colman, of Geelong
Australian Physiotherapy Association's Ruth Heenan
Thermoskin CEO Matt Symington.
The public also had a chance to participate by voting for their favourite team on Facebook from 1 to 20 April with 3,567 votes received.
The top three teams that received the most Facebook votes were automatically added to a shortlist of submissions. Additional teams were shortlisted based on a team's originality, appropriateness, quality of expression, and why the team needed the funds.
Mr Symington said he was amazed with the quality and diversity of the entries from every state and territory.
"We were amazed by the range of sporting teams that applied to the fund - from hand ball to junior soccer to BMX racing.
"And we were really touched by the quality of the submission by many of the teams. We had coaches, volunteers, mums and dads, club members all apply for the fund, wanting the best for their teams.
"We found it really difficult to choose between so many amazing organisations. So many teams were deserving of help".
The Community Sports Fund received entries from tiny regional towns such as Wurrumiyanga in SA as well as major metropolitan areas in Melbourne, Sydney, Brisbane and Perth.
The 14 Recipients include:
Adelaide Ice Magic, Adelaide SA
$500 for uniforms
Thermoskin Community Sports Fund Recipient Adelaide Ice Magic
Adelaide Ice Magic are a synchronised ice skating team with 16 skaters. Started in 2003, the team have contributed significantly to the community this year by raising money for charities and giving to the Men's Shelters at Christmas and volunteering to help children who are in need.
Australian Men's Handball Team, Durack NT
$1,000 for uniforms and competition costs
Thermoskin Community Sports Fund recipient Mens Handball Durack
An amateur handball team, the Australian Men's Handball Team competes against the world's best. So far they have been completely self funded and have a squad of 25 people competing for 16 positions to go to Qatar in 2015 for the World Championships.
BMX Far North Queensland, Cairns QLD
$905 for coaching staff shirts
Thermoskin Community Sports Fund BMX Far North Queensland
BMX Far North Queensland is the regional governing body for BMX racing. They were established in 1980 and currently support six clubs in the region. They currently have 813 licensed riders, 27 coaches and 183 registered officials.
Carrum Bowling Club, Patterson Lakes VIC
$500 for bowls
Celebrating 90 years of establishment, Carrum Bowling Club currently has 140 members and are always looking for new people within all groups of their community regardless of age, gender or ability.
Devil State Derby League, Launceston TAS
$1,000 for skates
Devil State Derby League was formed in 2011 in Launceston, Tasmania by a handful of determined, fun loving girls "with big dreams and a vision of purple hot pants". At DSDL they have an all-inclusive, positive attitude, and are all about having fun but being able to push themselves in an empowering environment.
Hawkesbury River Dragons, Brooklyn NSW
$750 for dragon boat cage
Based in Brooklyn, the Hawkesbury River Dragons are a team of individuals of all ages who come together to train, socialise and get fit paddling a dragon boat a few times a week on the beautiful Hawkesbury River. They are a growing team which started in 2010 and compete in the DBNSW league.
Lillydale Ejays Softball Club, Kilsyth, VIC
$695 for equipment
The Lilydale Ejays Softball Club was formed in 1982. The club encourages participation from all members of the community. This year the club are sending a Masters team to Italy to compete in the World Masters, in which they have funding through fundraising.
Kyneton Little Athletics Club, Kyneton VIC
$1,000 for a Fountain Proline V4 Liquid Marker
Thermoskin Community Sports Fund Recipients Lillydale Ejays Softball
The Kyneton Little Athletics Club currently have 175 children from the ages of 5 to 15 attending the centre. The club holds competitions every Saturday morning from October to March.
Milton Weightlifting Club, Milton QLD
$900 for jerking blocks
Thermoskin Community Sports Fund Recipients Milton Weightlighting
Milton Weightlifting Club presently has 23 members aged from 12 to 65 involved in Olympic Weightlifting. The club is affiliated with Queensland Weightlifting and officially commenced in 2012, growing steadily in numbers since. Their weightlifters have been successful in competitions at local & international events in the past year.
Paraburdoo Junior Soccer Club, Paraburdoo WA
$1,100 for equipment
Thermoskin Community Sports Fund Recipients Paraburdoo Junior Soccer
The Paraburdoo Junior Soccer Club is a new club starting up in the remote Pilbara region. They are holding a registration day for new players, and have already received over 70 expressions of interests from families in the area. There is strong interest in the game and a very healthy number of members on the newly formed committee.
Pioneer E-Girls, Alice Spring NT
$1,250 for equipment
Thermoskin Community Sports Fund Recipients Paraburdoo E-girls Soccer
Alice Springs based all-women's AFL team Pioneer E-Girls consists of 36 members from ages 13-35. They were established in 2011 and have taken out the premiership in 2011 and 2013. They aim to be role models for younger girls and to attract non-playing females to participate to promote health and fitness.
Seacliff Youth Development Squad, Wurrumiyanga SA
$500 for equipment
Thermoskin Community Sports Fund Recipients Seacliff Youth development Squad
Commandeered by a volunteer strength coach, the Seacliff Youth Development Squad aims to increase the participation of inactive youth from the ages of 14 to 23 by providing a range of winter fitness activities and programs for an excess of 30 people.
Tiwi Bombers Football Club, Tiwi Islands NT
$1,250 for equipment
Thermoskin Community Sports Fund Recipients Tiwi Bombers Football Club
The Tiwi Bombers Football Club was formed in 2007 and is the first all-indigenous AFL football team to play in a professional competition. The team is based in the Tiwi Islands and is made up of predominately local players involving the entire community.
Wyndham Victory Netball Club, Wyndham VIC
$750 for equipment and uniforms
Thermoskin Community Sports Fund Recipient Wyndham Victory Netball Club
With over 120 members participating in the local junior and open age netball associations, Wyndham Victory Netball Club are constantly active in encouraging members from new and different cultures in the Wydham area. These cultures include refugees, African and Muslim families.
Find out more about the Thermoskin Community Sports Fund here.