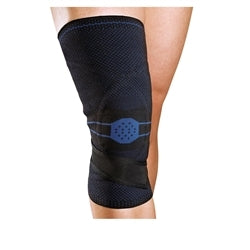 Thermoskin launches new product in U.S
Australia's leading brand of injury prevention and rehabilitation support products, Thermoskin, has launched its newest product – the Knee Alignment Sleeve - at the National Athletic Trainers Association annual conference in Las Vegas.
The Las Vegas event is the premier event for athletic trainers in the US. "We see the US as a huge potential for us to expand," said Thermoskin Chief Executive Matthew Symington.
The Knee Alignment Sleeve has been developed to prevent as well as assist recovery with anterior cruciate ligaments. It is designed to align the knee correctly to eliminate associated injuries. The product will be available in Australia in October.
It may well be in demand from AFL clubs with the competition's anterior cruciate ligament count at 15 after just eight rounds - already exceeding the past 10-year average of 13.7 per season. The AFL is poised to commission new research into the cause of series knee injuries in the competition.
The Thermoskin product was developed by the company over the past 18 months in consultation with experienced specialist sports physiotherapist Randall Cooper. Cooper has worked with some of Australia's most notable sporting organisations including the Hawthorn Football Club, the Australian Winter Olympic Team, and the Victorian Institute of Sport.